In Italy, the Tridentine Rite has been all but completely suppressed. There are still priests who bravely celebrate the Mass of the Ages, but secretly, in hiding: a scenario reminiscent of past Soviet and Protestant persecutions, and at times that of the early Christian Masses celebrated in the catacombs beneath Imperial Rome.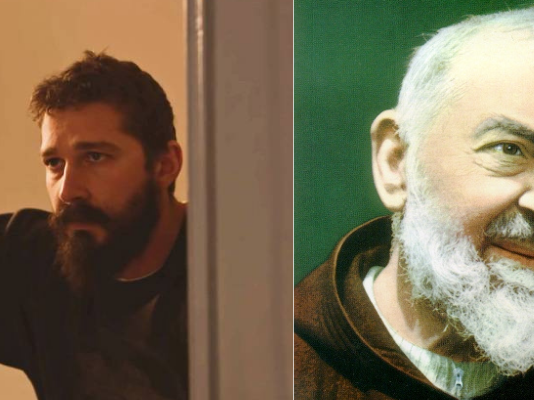 What is so striking, however, is the ominous accord that seems to have been established between the Vatican and ALL MAINSTREAM ITALIAN MEDIA: there is no mention of these persecutions, of the outrageous suppressions, in any newspaper published across the country, and although these restrictions had already ocurred in the past, they are now ratified and normalized by Pope Francis' Moto Proprio 'Traditiones Custodes' (Guardians of the Tradition!), in direct contradiction to the Moto Proprio of Pope Benedict XVI's Summorum Pontificum, which permitted and encouraged the celebration of the Vetus Ordo Rite.
The mainstream Italian media has completely censured Shia Le Boeuf's statement that his conversion to Catholicism is due to his direct participation in the Celebration of the Holy Sacrifice of the Mass, Vetus Ordo , whilst interpreting the part of Padre Pio di Pietralcina. Le Boeuf has spoken of the profound mystical experience which the Tridentine Rite provides, in stark contrast to the obnoxious, noisy, worldly Novus Ordo Masses he has previously attended, and that this eventually led to his conversion. (Saint Padre Pio of Petralcina celebrated ONLY the Vetus Ordo Rite).
In his interview with Bishop Barron of Word on Fire, Le Boeuf outlined his difficult childhood, his fiery, alternative youth, his disruptive, drug and alcohol ridden 20's, during which it becomes evident that the Church, by repressing this beautiful rite, is doing a terrible disservice to everyone, but most especially to those individuals torn and wounded by Sin and doubt, who are searching for a glimpse of the promise of Redemption and Eternity. Yet there is more: it is creepy and disquieting to consider that there is some clandestine agreement between the Vatican and the Italian Press to silence even the slightest acknowledgment of a Rite which has existed for almost 2,000 years, and which has provided us with all of out great saints, and the spiritual sustenance to support the efforts of the Militant Church.
Rebecca de Broglie Vannicelli